Polycom Call Center Headsets, Wireless & Corded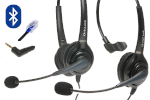 OvisLink
wireless
and corded Call Center headsets for Polycom phones. Premium voice quality, comfort for all day, with 2 Year Warranty &
30 Satisfaction Guarantee. Free Shipping, Free Return!
OvisLink
wireless headsets
are compatible with Polycom phone models that support Bluetooth headset function. OvisLink Corded headsets are compatible with all Polycom phone models. Following are choices of wireless and corded, single ear and dual ear headsets for Polycom phones. Compatible Polycom phone models are listed under the headset image. Click at the product image to find the product details.
4 wireless headset models on this page are compatible with Polycom VVX600, VVX601 phones. Some of these wireless headsets come with stand, wireless charger, some of them in super lightweight.
Click here
to see the wireless call center headsets.
Polycom Phone Headset Features
Polycom phone call center headsets by OvisLink offer acoustic shock protection, a swiveling microphone boom, noise cancellation, and in single ear designs, the technology to switch the speaker from one ear to the other. OvisLink call center headsets are easily installed by connecting the cord directly to the Polycom phone. Because there's no need for additional parts, you'll get more for your money at a lower cost per unit.
OvisLink corded Polycom call center headsets are compatible with Polycom IP phones and come with a single or double earpiece. With a tangle-free, RJ9 quick-disconnect cord, over-the-head design, and adjustable headband, these headsets are easily connected to the Polycom phone's headset jack. Users are treated to a lightweight, cushioned, and comfortable headset that can be worn all day long. Unlike other headset brands, OvisLink headsets for Polycom phones offer crystal-clear voice quality and require no amplifier.
If you're looking for a comfortable headset for Polycom phones that delivers warm and crystal-clear sound, buy today from OvisLink! Find your Polycom phone's model on the compatible list below the headset images. Click at the green button add the item to the shopping cart. Or click at the headset image to see more detail information.
Find your Polycom phone's model # at the back of phone. If it matches with model listed blow the headset images above, the headset model is compatible with your phone.
Questions? How to install headset with your Polycom phone? How to use headset with Polycom phones? How to solve headset problems with Polycom phones? Click here to read
Polycom phone headset F.A.Q.
.