Allworx Headsets With Mics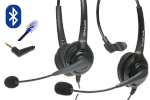 These specially designed call-center-style, over-the-head headsets for Allworx phones are guaranteed to provide you with both premium voice and audio quality. Whether you're searching for a single-earpiece corded Allworx headset with mic or you prefer a dual-earpiece headset, OvisLink has got you covered. We're happy to provide you with a high-quality selection and a variety of durable wired Allworx phone headsets for sale at unbeatable prices.
Choose the right headset model
Following are different headset model images. Find your Allworx phone's model listed under the headset image. Click the single ear or dual ear headset image as you prefer to go to the product page. Or click at Add to Cart button to start check out.
If you have Allworx Verge 9312 IP phone, you may choose one of our
wireless headsets
.
All headsets are available to be shipped on the same business day if order received by 2:00pm Pacific Time. We provide Free Ground shipping!
OvisLink Superior Wired Headsets
These call-center headsets are designed to be directly connected to Allworx IP phone's headset jack, so no amplifier is needed. All OvisLink headsets service users with solid, crystal-clear voice quality so you can work easily and efficiently day in and day out. A wired headset for an Allworx phone works best when used with the right Allworx phone. Key features include:
Acoustic shock protection
Noise cancellation
Flexible microphone boom
Rotatable microphone boom (for single-ear model, user may switch the speaker to either the left or the right ear)
Adjustable headband
Tangle-free coiled quick-disconnect cord
Acoustic shock protection ensures that when an electric overcharge signal of 6v or above comes to the receiver, it will be cut off automatically. Noise cancellation ensures you can hear the phone speaker above all else, and the leatherette ear cushion provides maximum comfort. OvisLink call-center headsets are designed for users who work in call centers, service centers, or sales departments and talk for long hours on the phone. With a lightweight, over-the-head design and leatherette ear cushion, you can wear these headsets for hours and remain comfortable.
Read on below to find helpful tips on how to choose the right headset model, how to use the headset with your phone, and even more.
How to choose the right headset model for your Allworx IP phone
Some Allworx IP phones have an RJ9 headset jack, while some have a 2.5mm headset jack. You can find your Allworx IP phone's model in the description field next to the above headsets.

There are two headset models listed on the description field: one is single ear, one is dual ear. A single-ear headset gives you the opportunity to communicate with colleagues and others around you. A dual-ear headset helps keep focus on phone conversations which is perfect for call centers and similar types of environments that are filled with callers and cubicles.

Do you need to purchase any adapter or amplifier to use with the headset?
No, you don't need to purchase any adapter or amplifier. The headset models come with a quick-disconnect cord that is designed to connect directly to Allworx IP phones for maximum audio quality.