Avaya Phone Headsets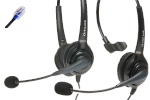 Avaya is the one of the broadest business phone and device portfolios in the industry. Avaya has many desktop phone series for workplace, contact center. All these Avaya phones' headset part have different design. OvisLink studies different Avaya phone models and makes OvisLink Call Center headset models compatible especially for each Avaya phone model.
To find the best voice quality Call Center headset to use with Avaya phone, find Avaya phone model listed Underneath the following headset images. Click at the Add to Cart button start to check out. Or click at the headset image to see more detail of the headset model.
All headset models are available in U.S. and Canada. We provide Free Ground shipping in U.S.
Not sure what Avaya phone model you have?
Avaya phones' model are on the label on the back of the phone, like the images below: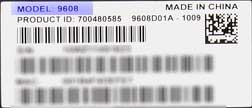 Or, click at the Avaya phone image of the Avaya deskphone model that matches with your Avaya phone, this will bring you to the OvisLink call center headset models that work best with your Avaya desktop phones.
More Details