Shoretel Phone Headsets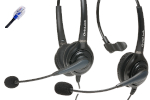 Our ShoreTel phone headsets connect directly to your ShoreTel phone's headset jack, without requiring an amplifier. This simplifies the unit's construction while keeping sound quality superb. Designed specifically for compatible ShoreTel models, you can activate your ShoreTel headset via the phone's headset button. Use the keypad's volume controls to adjust the earpiece volume. When paired with compatible phones, our ShoreTel phone headsets provide the crystal-clear sound expected from high-end headset units.
OvisLink headset models come with complete set.
Do not need additional cord or adapter.
Features include:

Soft leatherette ear cushions
Rotating, adjustable mic boom
Noise cancellation
Acoustic shock protection
Tangle-free, coiled quick-disconnect cord
OvisLink's ShoreTel headsets are purpose-made for call centers, sales departments, or any other environment with high call volumes. Designed with hours of user comfort in mind, features include a rotating mic that lets single-earpiece users switch ears with ease.
Buy our headsets for ShoreTel phones and ensure crystal-clear communication at an affordable price. Bulk discounts available!