Headsets with 2.5mm connector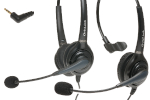 Headsets models on this page are compatible with headsets that have 2.5mm headset jack. Not for computers. Not for Smartphones.
Not sure if the headset is compatible with your phone? Look at the lower right hand side of your phone. If it has a headset jack like the image below, the headsets on this page are compatible with it.


2.5mm Headset Jack on Different Desktop Phones
All headset models on this page come with headpiece and bottom cord complete set. Don't need additional purchase.
These are durable headset with sound quality. OvisLink offer 30 Days Satisfaction Guaranteed and 2-year warranty on all OvisLink headsets.