FortiFone IP Phone Headsets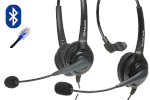 Products on this page are compatible with FortiPhone phones. Choose different styles, single ear or dual ear, or
wireless headset
as you prefer. Click at the "Add to Cart" green button to start check out. Or click at the product image to see product details.
Orders received by 2:00pm Pacific Time will be shipped on the same business day.
Free Ground Shipping for orders over $51.95.
OvisLink headset models come with complete set.
Do not need additional cord or adapter.
OvisLink has specially designed our FortiFone headset for comfort, quality, and to be compatible with FortiFone IP phones. The corded FortiFone headsets include one or two earpieces, an RJ9 Quick Disconnect Cord, and directly connects to FortiFone IP Phone's headset jack; no amplifier is needed. Features like volume can be easily controlled on the keypads. The wired headsets for FortiFone IP phones deliver solid, crystal-clear voice quality every time.
OvisLink headsets offer convenient over-the-head designs and consist of an upper headset with one or two earpieces and a lower headset with a quick disconnect cord that plugs into the FortiFone IP Phone jack. They come with an adjustable headband and rotatable microphone that can be quickly adapted to the user. The rotatable microphone boom also allows the user to switch the speaker to either ear with ease. The headset's design and ear cushions make it comfortable to wear for many continuous hours. Shock protection and noise cancelation come standard.
Quictions? Clic here to see F.A.Q. for using Contact Center headsets with FortiFne phones.