Nortel Phone Headsets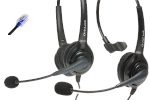 OvisLink's Nortel phone headsets come with one or two earpieces and are specially designed to work with Nortel Business Phones. All of our Nortel Networks phone headsets come with crystal-clear voice quality and a quick-disconnect cord. They require no amplifier and plug directly into the Nortel phone's headset jack. The OvisLink headset for Nortel phones are equipped with shock protection and noise muting. This simple headset for Nortel phones is easy to use, with no extra parts and simple plug-and-play functionality. Functions like volume are easily controlled using buttons on the phone's keypad.
OvisLink call center headsets feature a convenient, over-the-head design. They consist of an upper headset with adjustable headband, one or two earpieces, and a rotating microphone. The lower quick-disconnect RJ9 connector cord plugs into the Nortel Business Phone jack. All headsets are lightweight, have cushioned earpieces, and feature adjustable headbands that come with shock protection and noise muting.
Buy your headsets for Nortel phones from OvisLink. They are specially designed to provide maximum comfort for those who spend long hours on the phone. Headsets deliver crisp, clear sound quality, and the swivel microphone boom allows for easy switching from left ear to right.
Free standard shipping for following headset models!