NEC Phone Headsets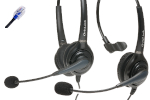 Buy NEC phone headsets from OvisLink for affordable call center headsets, specially designed for NEC phones. We keep costs low with our no-amplifier design, which also simplifies installation without sacrificing audio quality. Simply connect to the NEC phone's headset jack and you're good to go. All headsets are available in dual- or single-earpiece designs.
These NEC phone headset model come with headpiece and bottom cord complete set. Don't need additional purchase.
Headset features included: Noise cancelling, shock protection, rotatable microphone boom, Quick Disconnect…
OvisLink headsets come with 2-year warranty and 30 Days Satisfaction Guaranteed.
You may need to program a headset key on your NEC phone's keypad in order to use a headset.
Please find detail instruction for program a headset key and use headset with different NEC phone model on
NEC phone headset FAQ page
.