Panasonic Phone Headsets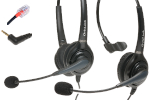 Panasonic SIP phone headsets for sale at OvisLink offer superior comfort and sound quality at unbeatable prices. We keep costs low with our simple, no-amplifier design. These Panasonic IP phone headsets connect directly to the phone's headset jack. Once plugged in, just activate it using the phone's headset button. Our Panasonic business phone headset models
OVHS072-UTG
and
OVHS084-UTG
are compatible with Panasonic KX-UTG200 and KX-UTG300 SIP phones;
OVHS072-HDV
and
OVHS084-HDV
are compatible with Panasonic HDV series IP phone models HDV KX-HDV130, KX-HDV230, KX-HDV330 and KX-HDV430;
OVHS972-ATT
and
OVHS084-ATT
are compatible with all Panasonic phones with 2.5mm headset jack.Please find the headset models under the headset images below.
OvisLink provides fast and free ground shipping. All headsets are available to be shipped on the same business day from Southern California.
OvisLink's Panasonic SIP phone headsets are designed for users in call centers and other business environments, or anyone who spends long hours on the phone. They feature superior sound quality while also lightweight, comfortable, and easy to adjust. The rotating microphone boom lets single-earpiece model users switch ears in a snap, while leatherette earpieces stay comfortable for hours.

Features:

Acoustic shock protection
Noise cancellation
Single- or dual-earpieces
Flexible, adjustable microphone boom
Lightweight, comfortable ear cushion(s)
Tangle-free, Quick Disconnect cord
Each headset for Panasonic SIP phones comes in two pieces. The upper includes the earpiece, an adjustable headband, a microphone with a flexible and rotating boom, and a connector cord. The lower piece is a cord that connects to the phone. This Quick Disconnect design makes it easy for users to step away from their desks without removing the headset.
Buy Panasonic desk phone headsets from OvisLink for the utmost quality in sound and comfort, helping users deliver superior service over the phone. Bulk discounts available. Shop today! Free standard shipping for following headset models!
How to choose the right headset model for your Panasonic phone?
Panasonic has many different telephone models, some of these models have RJ9 headset jack, some of them have 2.5mm headset jack. These telephones are compatible with different headset models. Even Panasonic phone models have RJ9 headset jack, they can still be compatible with different telephone headset models. For example, both Panasonic UTG and HDV Series have RJ9 headset jack, the headset models that compatible with these two series are different. The headset model
OVHS072-UTG (single ear)
and
OVHS084-UTG (dual ear)
are compatible with
Panasonice UTG series
SIP phones; headset models
OVHS072-HDV (single ear)
and
OVHS084-HDV (dual ear)
are compatible with
Panasonic HDV series
SIP phones.
Pansonic
also has
Business Digital Series KX-DT500
and
Business IP Phone Series KX-NT500
. These two serieses are compatible wtih headset models
OVHS072-PS2 (single ear)
and
OVHS084-PS2 (dual ear)
.
So, first you need to do is find out what is your phone's model number. Many Panasonic phones have the model number above of the LED display, next to the name Panasonic. If you can't find the model above the display, find it on the label at the back of the phone.


Design if you would like to use single ear headset or dual ear headset. For example, someone may chooses a single ear headset that gives him convenience to talk to colleges in the office. Someone may chooses dual ear headset that helps she focuses on phone conversation in the call center environment which filled with callers and cubicles.


Find your phone's model number above, next to the headset image. Click at the headset image to go to the product page to place order. Order received by 1:00 PM Pacific time normally shipped on the same business day.
Do you need to purchase any adapter, amplifier to use the headset?
No, you don't need to purchase any adapter nor amplifier. The headset models come with a Quick Disconnect cord and are designed to connect the headset directly to Panasonic SIP phones.
Quictions? Clic here to see F.A.Q. for using Contact Center headsets with Panasonic phones.