Yealink Phone Compatible Headsets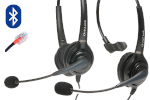 OvisLink's corded headsets for Yealink IP phones are specially designed for compatibility with Yealink phones, maximizing call clarity for all call participants. Each headset includes dual- and single-ear configurations, an RJ9 quick-disconnect cord, and volume control via the phone's keypad. Our Yealink phone headsets require no amplifier, reducing your cost without sacrificing sound quality or ease of use.
OvisLink wireless headsets are compatible with Yealink T5 series phones. These wireless headsets give you long connection range, long talking time and noise free HD voice quality.
Buy Yealink headsets at OvisLink for unrivaled quality in comfort and sound, at a price most any business can afford.
Free standard shipping for following headset models!
OvisLink Yealink phone compatible headsets features
These corded, over-the-head headsets are made for all-day comfort, with adjustable headband, rotating mic for switching ears, and leatherette ear cushion. Some key features of these headsets include:
Noise cancellation
Acoustic shock protection
Flexible, rotating boom mic
Adjustable headband
Tangle-free, coiled cord design
OvisLink's Yealink headsets are made for users in call centers, service centers, sales departments, or anywhere that requires them to spend hours on the phone. They're made with four major traits in mind: crystal-clear sound quality, user comfort, durability, and cost-effectiveness.