Avaya 9600 and 1600 phones Headsets
The OvisLink call center headsets and office headsets on this page are for Avaya 9600 IP Deskphones models 9608G, 9611G, 9641GS, Avaya IP deskphones models 1608 and 1616. If your Avaya match with following Avaya phone images and model numbers, these are the right Avaya headsets for you.
Other Avaya phone models may look similar. To confirm your Avaya phone model, check the label at the back of your Avaya phone. The model number is listed on the label. The images below show how the Avaya phone model labels look like: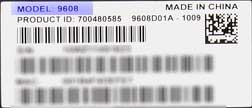 The Avaya phone model number is highlighted at the top of the left hand side corner.
If your Avaya phone model matched the Avaya phone models pictured above, you're on the right page. The Avaya phone headsets on this page are compatible with your Avaya phone.
If your Avaya phone model doesn't match with above Avaya phone model, click here to our other Avaya phone headset model page .
The Avaya headsets on this page, OvisLink single earpiece headset model OVHS072-A96 and dual earpieces headset model OVHS084-A96 are designed to be compatible well with Avaya 9600 series IP Deskphones and Avaya 1600 series IP Deskphones. These Avaya headset models will give your call center and service center agents the best experience providing them with solid, superior clear sound quality and all-day comfort.
OvisLink's Avaya compatible phone headsets service both sides of the telephone conversation with super crystal care natural human tone. The noise-canceling microphone cancels the background noise on the user side and sends only the headset user's voice to the other end of the phone conversation.
OvisLink created comfortable call center and office phone headsets having the needs of agents in consideration. This OvisLink headset model is lightweight with regular head fitting, automatically adjusts headset earpiece design, ear cushions are made from high-grade nylon composite materials; tangle-less headset cord and more details to make sure the headset user feels comfortable for all-day.
Click here to buy the single earpiece Avaya headset model if you need an office headset, but also need to talk with your colleague in the office.
Click here to buy the dual earpieces headset model if you work in a call center and would like to focus on phone conversation.
Call OvisLink sales team at 909-869-8666 if you prefer place order on the phone. Or email us at sales@ovislink.com.
All OvisLink headsets come with 30-day Satisfaction guarantee, 2-Year Warranty and Free Shipping!
How to use these corded phone headsets with your Avaya 9600 series or 1600 series phone?
OvisLink makes call center headsets easy to use. Avaya phone 9608, 9611G, 9621G, 9641G, 9650 and Avaya IP phone 1608, 1616 have a RJ9 headset jack at the back of the phone. These OvisLink Avaya headset models come with a RJ9 quick disconnect cord. Connect the OvisLink headset RJ9 quick disconnect cord to the RJ9 headset jack at the back of the phone. Press the headset key on the Avaya phone's keypad to get dial tone.