Cisco 7800 Series IP Phones Compatible Headsets
Following Call Center headsets are compatible with the Cisco 7800 Series IP phone models listed below:
Cisco Unified IP phone 7821
Cisco Unified IP phone 7841
Cisco Unified IP phone 7861
OvisLink Call Center headsets on this page are compatible with Cisco Unified phone models. Just connect the headset to your Cisco phone's headset jack at the back of the phone then press the headset key on the phone to use the headset.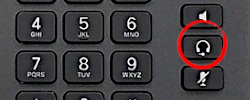 OvisLink headsets features with Acoustic Shock Protection, noise canceling, RF-Shield, coiled, tangle free headset cord, rotatable microphone boom...