Cisco Phone Headsets
OvisLink makes the best Cisco phone headsets for Call Centers and regular offices. Our headsets have a convenient, Over-the-Head design, a Quick-Disconnect cord, and can be ordered with one or two earpieces.
These Cisco Call Center headsets connect directly to the Cisco IP phone's headset jack, offer crystal-clear voice quality, and require no amplifier. Simply use the chart on this page to find the Cisco IP phone model that's compatible with the headset you wish to purchase. OvisLink Cisco Headsets come with shock protection, an adjustable headband, a tangle-free cord, and noise muting.
OvisLink Call Center headsets for Cisco IP phones are specially designed to be comfortably weightless for those who work in call centers, service centers, sales departments, and are on the phone for hours at a time. OvisLink headsets have cushioned earpieces and feature a convenient, Over-the-Head style.
Compatible Cisco phone models are listed underneath of each headset images on this page. Click at the image that has your Cisco phone model listed to go to the detail page. Or simple click Add to Cart button blow the price.
Check new released wireless headsets for Cisco phones here!
How to choose the right headset model for your Cisco IP phone?
Find your Cisco phone's model number first.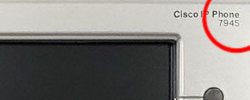 Some of the Cisco phones' model number is printed at the top of the right hand conner of the phone
Some of the Cisco phones' model number is printed on a label on the back of the phone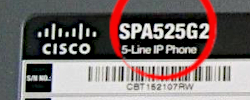 Cisco SPA Small Business series IP phones' model number at the back of the phone
Different Cisco IP phone series look different
You may compare your phone with following images to find out which series does your Cisco belongs to. Click at the phone image below to go to the compatible headset page for your phone.