Setup OvisLink Headset with Mitel Phone Model 5320e, 5330e and 5340e
In order to use a headset with Mitel phone model 5320e, 5330e and 5340e, you need to program a headset key from one of the Mitel phone's programmable keys. Following is the instruction.
Press Menu key (the grey color key above the red key on Mitel phone's keypad).
Press "Settings".
Press "Programmable Keys".
Press the key you wish to program.
Press "Headset".
Press "Save".
Press "Save" again.
Press "Close".
Press "Close" again.
If you can't find "Programmable Keys" option under "Setting" page, you can program a headset key through the Mitel phone's web configuration tool. Please find detail instruction blow:
Find the phone's IP address and log in to the phone.
Click at "Key Programming on the left column.
Select an available key on the right hand side.
Select "Headset On/Off" in the Feature field.
Click at "Apply" on the page.
Following is an image of the Mitel 5330e IP Phone Web Tool page.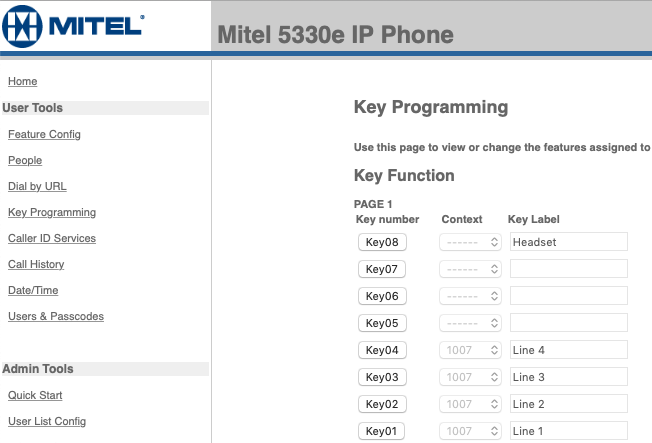 Back to Mitel phone headsets page