Dual Ear and Single Ear Interchangeable Headset
Last Updated: 06/10/2022
---
Dual Ear and Single Ear Interchangeable Headset
OvisLink designed new dual ear headsets with a unique feature. It allows user to mute one of the speakers to use a dual ear headset as a single ear headset anytime.
How does it work?
There is a mute button on the speaker that does not attached with the microphone. Press the mute button, the speaker will be muted and the headset functions as a single ear. Press the mute button again to un-mute the speaker and the speakers on user's both ears will work as normal.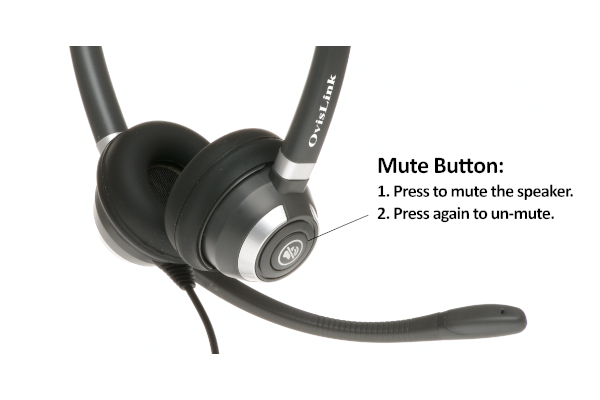 Which headset models have this feature?
All the OvisLink dual ear headset model started with OVHS-DMM5 have this feature. Following is the list.
OVHS-DMM5-CUF - Call Center Headset Compatible with Cisco Unified Phones
OVHS-DMM5-FON - Call Center Headset Compatible with FortiFone Phones
OVHS-DMM5-MTL - Call Center Headset Compatible with Mitel Phones
OVHS-DMM5-NTL - Call Center Headset Compatible with Nortel Phones
OVHS-DMM5-PSR - Call Center Headset Compatible with Polycom Phones
OVHS-DMM5-P1 - Call Center Headset Compatible with different Telephone Brands