Bluetooth Headsets Coming Soon
OvisLink Bluetooth headsets for Smart Phones will be available within July!
Corded Smart Phone Headsets
OvisLink is proud to present you with our specially designed call-center-like headsets for smartphones. These professional-level headset models can be used with iPhones, LG G and Samsung Galaxy smart phones. They are designed with high-quality parts and constructed with care to provide you with the sound quality you need to work without delay. Whether your job has you working on the road or you're surrounded by others on the phone, these headsets can help you get your job done right. From headsets with a single earpiece to headsets with two earpieces, you can find the lightweight mobile-phone headset with microphone that suits your needs and preferences here.
Crystal-Clear Audio & Voice Quality
OvisLink models are guaranteed to provide you with crystal-clear audio and voice quality. Each of these over-the-head OvisLink headsets includes two durable parts: the upper part – the earpiece(s), an adjustable headband, a microphone with flexible boom, and the upper cord; and the lower part – a 12-inch, 3.5mm, 4-conductors quick-disconnect cord that securely connects the headset to your phone. The direct connection provides optimal sound and voice quality and allows you to control the volume with your phone.
Depending on your work environment and personal needs and preferences, headset models with a single earpiece or dual earpieces may benefit you best. Single earpiece headsets are ideal when you need to keep one ear free to hear colleagues or listen to what's happening in your surrounding environment. Dual earpieces are best suited for when you want to keep your entire focus on the phone conversation. Dual-earpiece headsets are often the headset of choice in noisy call centers and busy offices. All of our over-the-head headsets are lightweight and guaranteed to provide maximum stability in addition to comfort, so you can wear your headset day in, day out and even on the go with ease. Order your new mobile-phone headset today, and read our tips below on changing your smartphone settings to achieve the best possible sound!
Free standard shipping for following headset models!
Most smartphones have 3.5mm headset jacks, but they are not all the same. The above headset models have been tested with the listed smartphone brands and models. They may not be compatible with smartphones not listed.

For iPhone 5 and iPhone 6 users, follow the steps below to get the best results with headset models OVHSM372-S35 and OVHSM384-S35:


1.
Go to iPhone's Settings page
4.
Tap "Call Audio Routing"
5.
Tap to check "Headset"
iPhone 6 users will find there is an additional function on the phone called "Phone Noise Cancellation" that can also help improve audio quality. Follow these steps to turn on the iPhone's noise canceling function:


1.
Go to iPhone's Settings page
4.
Find "Phone Noise Cancellation"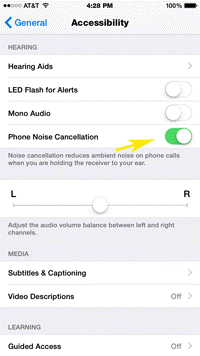 *** All OvisLink headset products come with 2 years warranty
*** Orders received by 1:00PM Pacific Time normally ship on the same business day.